The Official Clan Caterpie Web Site
Last Updated on 5/18/1999

Welcome to the official home page of Clan Caterpie. This is a group of people who write fan-fic stories in the PokéWars on the newsgroup alt.games.nintendo.pokemon. From the options below, you can read about Clan Caterpie's latest adventures, learn more about the individual characters, look at other PokéWars related sites, view the FanArt Gallery, and laugh reading Icy's PokéChat Show. There's always something new happening here, so check back often.

-- IcyPikachu
Clan Caterpie's Stories from The PokéWars
The Members of Clan Caterpie [Under Construction]
Links to Other PokéWars Pages
Icy's FanArt Page
Icy's PokéChat Show
for more stories from the PokéWars, read them on alt.games.nintendo.pokemon!

Vote for me! Vote for me! Ahh... It was worth a try...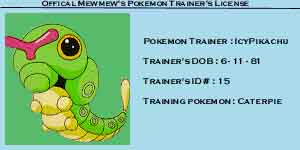 Check out this cool trainer's license I got at MewMew's Pokemon Site
ICQ: IcyPikachu, #29184557
AIM: IcyPika

CONTACT ME
All page design techniques may not be reproduced without my permission. Pokemon is a registered trademark of Nintendo and Game Freak.
The Official Clan Caterpie WebSite © 1999. Josh Douglass (IcyPikachu).
Josh's Web © 1997, 1998, 1999. Josh Douglass.